Tortanick wrote:
Now I'm confused... you just reminded me that Gyisache are an incredibly social species who would want to be physically close, but your simile says your being straight.
There was a little bit of sarchasm.
Ok, they are social creatures. It would be good if when their ships merged, they could interact. Then when it's time to flee, a member of the ship can flee in his own ship, leaving the left over ships to still form a ship.
Tortanick wrote:
I have little trouble seeing them in herd spaceships, if nothing else your concepts look better than the Eluder
. But anyway a primary defence strategy for an individual in the herd is that, there's 100 of us, and 1 lioness, that means I have a 99/100 chance she's going to attack someone else. It seems reasonable to me that they'd try to keep this trick even in outerspace.
And of course there's the the psychological issue, a Gyisache would want the option to run away any time it chooses, no waiting for the captain to give the order, that means they need to have their own ships. They might never deviate from the herds decision to retreat/ not to retreat but knowing they could might be a sticking point for any Gyisache thinking of crewing a ship.
Thanks. This is a point I often try to get across. This is a good description of the Gyisache and their ships which I support.
Josh wrote: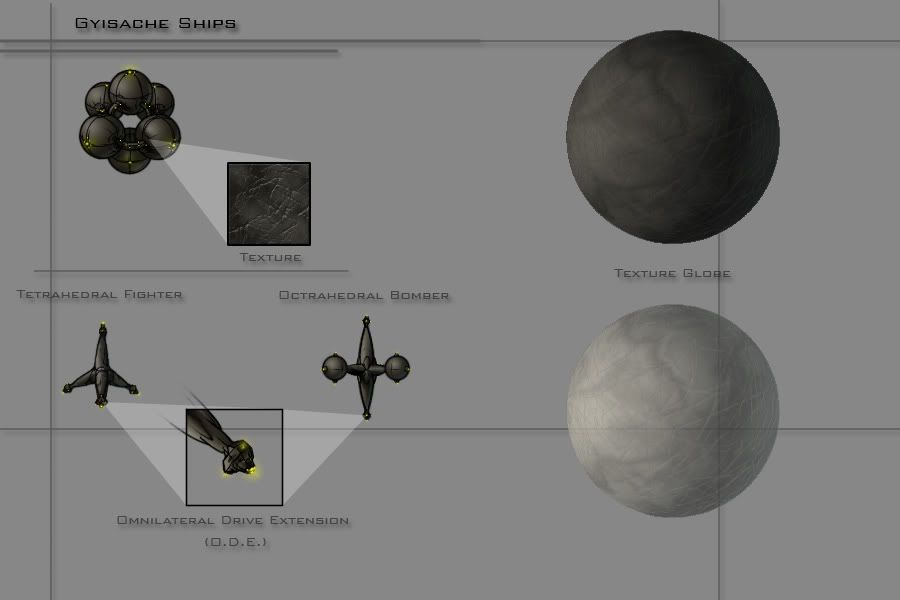 I finally did the fighters and bombers
Awesome. I like the way they have joined together, as they look more like one ship now, but still separate ships. I also like the fighters and bombers. They are pretty awesome looking.
Josh wrote:
Also, I don't know how much further I should go with these concepts; They could go on forever and ever, so I'm going to declare them ready for servicing as is, though I will probably have to do some more later.

Yea, they look pretty complete.
Josh wrote:
Utilae wrote:
Maybe docking ports connect or something like that. Some kind of transformation, eg folding parts of the ship.
... If you could give me a picture of what you want, that would be very helpful. (Geoff is good at this, he uses MS paint I think)
There's nothing I want in particular, just giving a direction to go and leave it to the artist to imagine the image.
Josh wrote:
Tortanick wrote:
...Gyisache are an incredibly social species who would want to be physically close...
Yeah, that's true. I never understood why multiple ships would suit them and I've been wary of literally translating their spaceships into herds. It's very difficult for me to wrap my head around how one ship is just multiple ships in game too. Seems to me it would better suit them if... actually maybe you should just see how
these guys
did it.
Hmmm, Cool that Eluder ship is well thought out to match the race description and I like it.
With the Gyisache though, I would stick to the herd / school of fish system more though. But we do have some of those qualities, eg retreat, no B.U.T.T. missile though