Didn't I say they'd get their own topic?
This thread will be for everything Gyisache that has pictures.
RED
means
ENGINE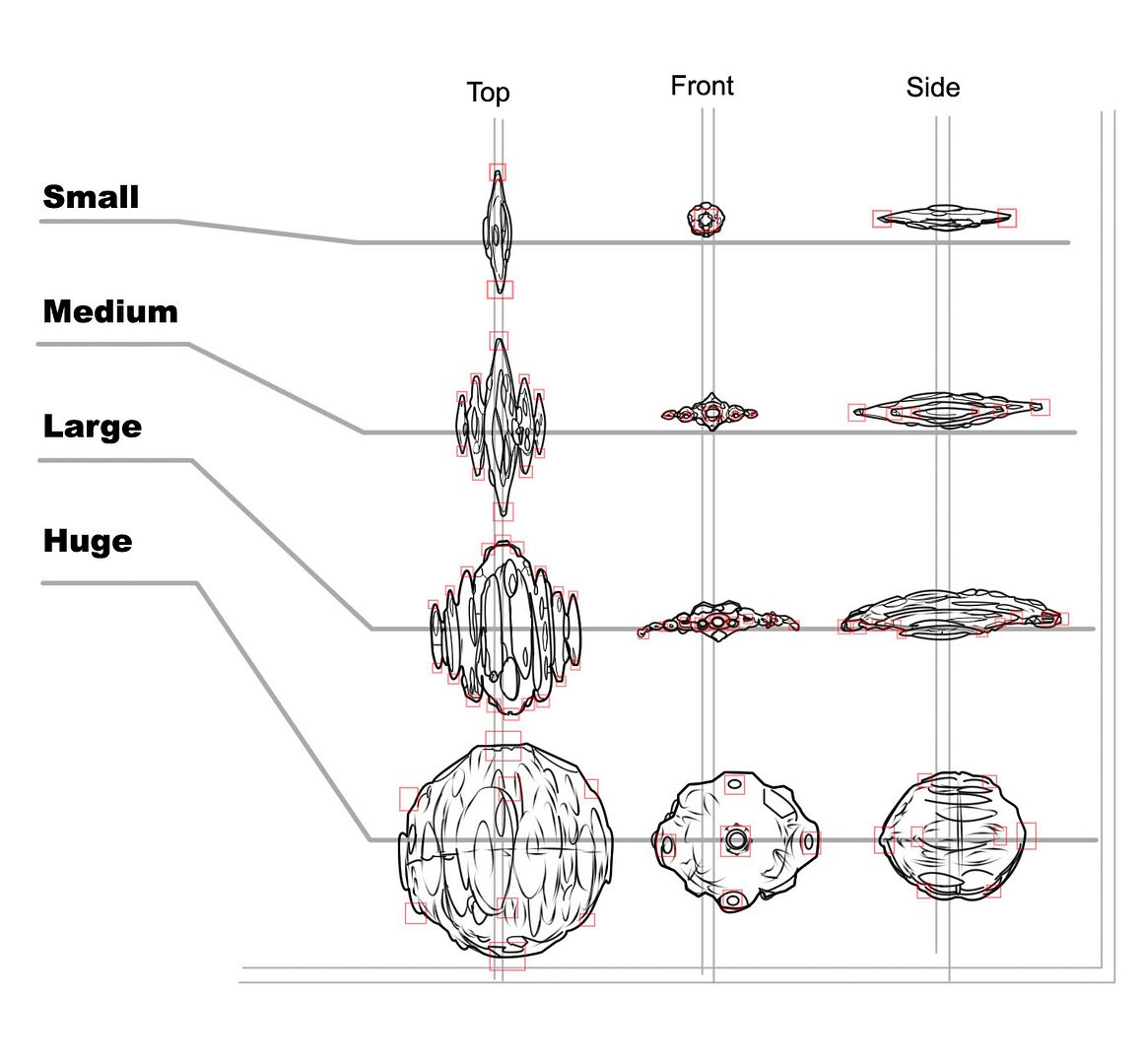 Gyisache Ship Line Schematic
Right here are schematics, preliminaries really, for one line of ships; small, medium, large and huge sizes of ship. No fighters, one model each.
Actually, there are 10 other pages of sketches floating around in a trashcan somewhere, but IMHO, this is the best of the lot. Please don't compare these to calamari cruisers, I know what they look like...
Anyways the grey lines don't mean anything and the red boxes denote engine exhausts. The design of these ships adheres strictly to this philosophy:
Utilae wrote:The Gyisache ships should have the following traits:
-able to retreat/runaway ie speed
-small, stealthy, not noticeable
-individually small, but together a group of them are a 'flock'. Like a school of fish, they can come together to look like a bigger fish.
And
my
solutions for those requisites.
Able to run away
To do this, I gave em' symmetrical engine blocks. These wing shaped ships have engines in front that are just as powerful as in back. It was a novel approach I thought, instead of just attaching them to a huge rocket motor (which I did consider)
Small and stealthy
I suggest dark shades then, even though these are not colored. Various shades of taupe would be a good color for their ships. Also, they look nice and sleek for the purpose of looking small, stealthy and speedy.
A school of fish; small alone, big together.
I'm not sure if I misunderstood this one or not. The larger ships are composed of many ovoid ships put together in a particular formation. If you look closely, each of the ovoid shapes are really supposed to be ships, though you wouldn't know it without being told that beforehand. To be honest, I think I failed miserably, but I did my best. I really have no idea how to this.
Comments? Suggestions? Complaints? Praises? All are welcome, especially money donations. I love those.